Podcast: Play in new window | Download
Subscribe: Google Podcasts | Spotify | TuneIn | RSS
Today I am speaking with a mobile RV technician from the Chattanooga area of Tennessee, which is where he opted to move after retiring from his career in the tech industry.
However, Allen Look was retired for all of five minutes before he realized he needed something to do. He saw tremendous need for RV technicians in the Chattanooga area, and Allen though it would be a good business he could establish with his brother, Kevin.
Together, they excelled in courses at the National RV Training Academy when they went through the program in 2022. Allen was impressed by the different types of people from all sorts of backgrounds who were pursuing business opportunities providing mobile tech services and RV inspections.
Allen had owned RVs in the past, which is why he knew demand for repair services was very high. That is especially true for technicians who will complete repairs on-site without requiring people to drive their rigs to a repair center.
One of the challenges Allen faces as a mobile technician is sometimes having access to resources he needs in the field, especially when cell service is weak and there isn't an internet connection.
However, one of the greatest benefits he received from NRVTA training was the ability to connect with 150 to 200 other professionals, which have remained very beneficial resources for Allen.
He describes some of the challenges and rewards of being a small business owner, as well as how the experience has opened his eyes to ways Allen can help other technicians build successful businesses of their own by harnessing the power of technology.
Allen is working with investors and other partners to create a platform to help those independent business owners with scheduling and the financial aspects of operating a successful business. His primary goal is to help reduce the level of "administrivia" that independent business owners must wade through every week.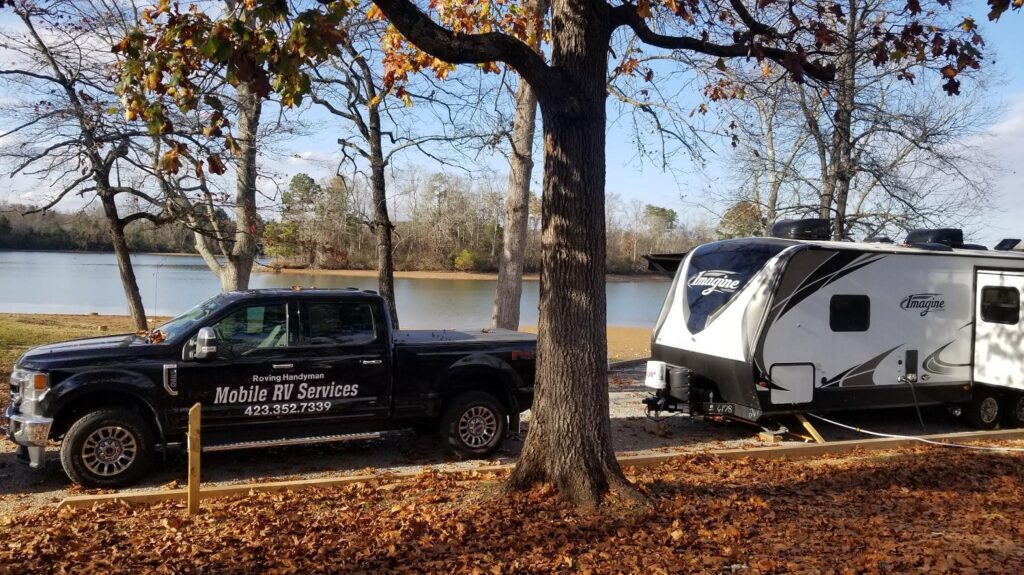 If Allen were going to provide any advice to new mobile RV technicians, it would be to get out of their house and just drive around. He specifically suggests they print up a bunch of business cards and drop them off at campgrounds in the area.
Doing that brought in 80 percent of Roving Handyman's business when he was just getting started. Today, Allen and his brother are so busy that they can't handle all the demand for repair services.
He also suggests networking with RV dealers in the area who cannot provide mobile service to their customers, especially to those RVers who live in their rigs full-time and are reluctant to leave them at a repair facility.
One of the biggest surprises Allen has discovered is the difficulty mobile RV technicians have in getting Google to recognize their businesses. That's because the mobile technicians don't have a physical location and can't provide a storefront. Therefore, Google doesn't see the company as being legitimate.
That's what is motivating Allen to expand RV Handyman to other regions of the country just to give mobile service technicians an opportunity to connect with clients wherever they may be.
People who want to connect with Allen either for repair services on their own rigs, or as business owners interested in joining his online network, should visit www.rovinghandyman.com.
Today's episode is sponsored by the National RV Training Academy in Athens, Texas. The academy's one-week live training or home study course will teach you everything you need to know to fix about 80 percent of the problems people experience with their RVs.
You can also sign up for additional training to become an RV inspector, campground technician or to provide mobile RV service. For more information, visit www.nrvta.com.
That's all for this week's show. Next time, I will be interviewing the membership director the National RV Inspectors Association and the RV Technician Association of America about the upcoming NRVTA Expo. The virtual event takes place in October to provide continuing education credits for technicians and inspectors. I'll have that interview on the next episode of RV Tech Talk. Thank you for listening!